Introduction of Taipei e-Campus
Taipei e-Campus is the e-learning network sponsored by Taipei City Government, opened officially in August 2001. This is the first use of e-learning network technology to provide high quality and convenient services of lifelong learning environment for national civil servants and citizens. Teaching materials types of this e-learning network are profound with constantly innovative learning services. It has been one of the leading brands of e-learning indicator so far in Taiwan.
Operation of Taipei e-Campus
Taipei e-Campus offers
the Direct View
feature, you can join the classes immediately without a registration.
Operation:
1. Find the courses you want to read, please click
the Non-member Direct View
.(photo)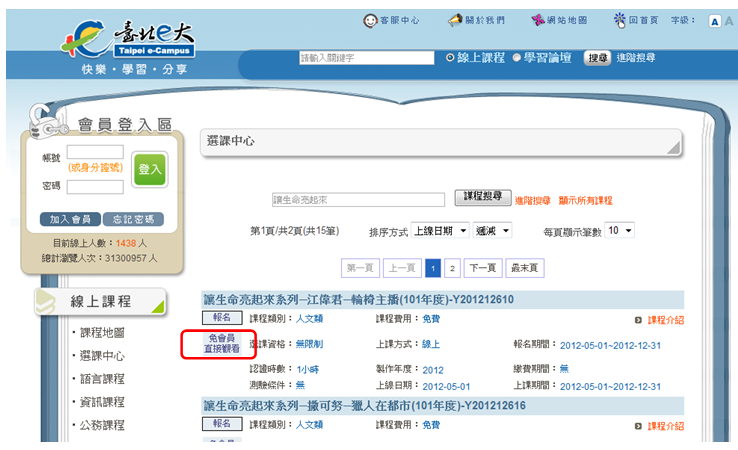 2. Please click
OK
to proceed, the course will open in a new window.(photo)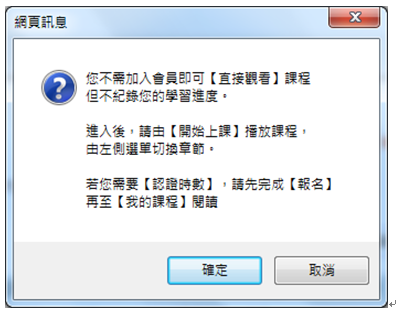 3. Click on
Start the course
.(photo)
4. You can click the left menu and switch to the chapters you want to see.(photo)
5. After watching the course, please click
finish the course
on upper right corner, turn off the window.(photo)
6. You can repeat the above actions to watch other courses.
If you like the courses on Taipei e-Campus, please sign up for a membership:
(a) You can choose and read more courses as a member.
(b) You can record your information and learning conditions during the courses as a member.
(c) You can receive all the promotions of Taipei e-Campus as a member.
(d) You can receive information of courses and activities of Taipei e-Campus as a member.
(e) If you are a civil servant, you can obtain lifelong learning certificate hours as a member.
Click :
Sign up for a membership (open a new window)